WEDDING PACKAGE CONTENT CHANGE


WEDDING RING (PROPOSE)
Content
Wedding Dress/Tuxedo Cube
Celebrity Style Wedding Outfit (1 Day)
Wedding Reservation Ticket
Wedding Invitation – Undecided x30

WEDDING RING (REMIND)
Content
Wedding Dress/Tuxedo Cube
Celebrity Style Wedding Outfit (1 Day)
Wedding Reservation Ticket
Wedding Invitation – Undecided x30
*The 2 new rings is tradeable and bank shareable but not resellable.
*Players must use the Wedding Ring (Propose) if they're not married. If married, players may use either Remind or Propose for a Remind Wedding.
*Wedding Ring (Remind) cannot be used when not married.
NEW OFFICIANTS & WEDDING HALLS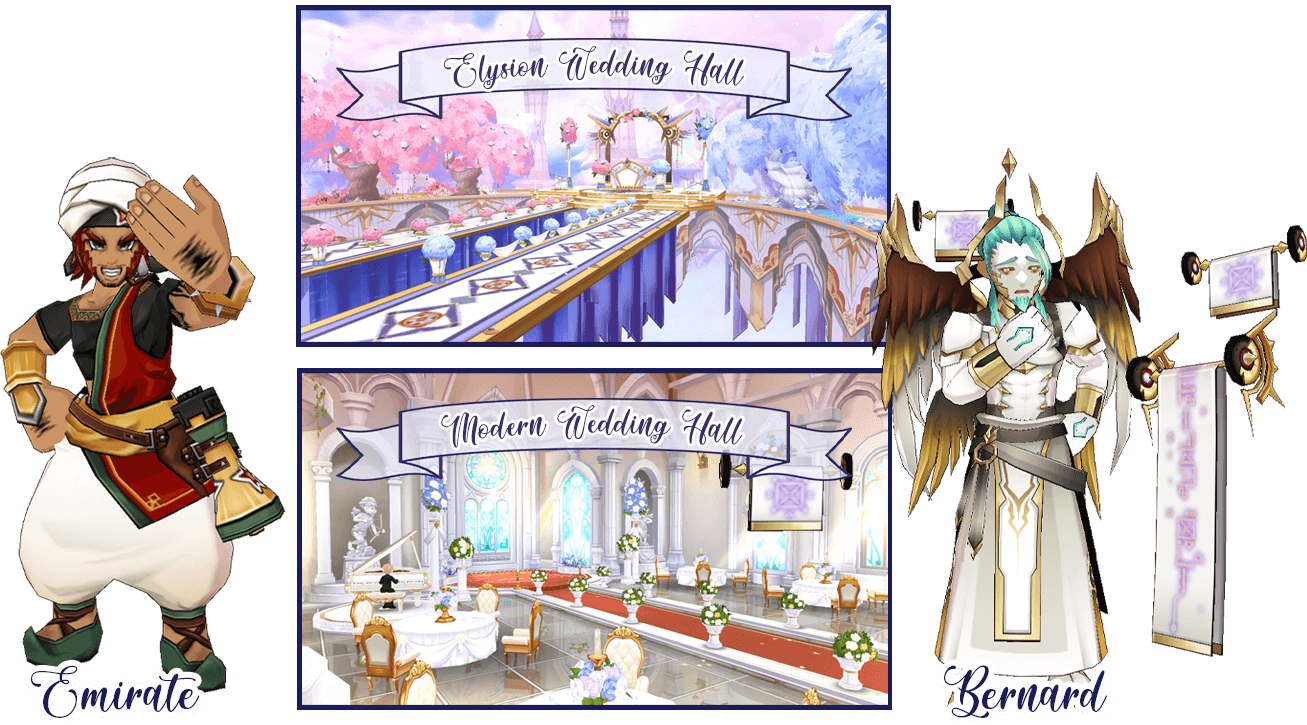 WEDDING PREP REVAMP

Wedding Hall Reservation functions have been added/improved upon using wedding rings
The ability to create private rooms have been added
'Reservation' function added (characters with invitation can enter first to reserve your seating).
Different Wedding Outfit Cubes will be given based on the type of ring used (outfit cubes will be sent to the mailbox).
Messages cannot be edited once the Wedding Hall has been reserved.
Wedding invitations will not be used if players invite other players using the Wedding Ring.

Add more guests using the Wedding Invitation with the Wedding Ring's invitation Function.
You must first reserve a wedding hall to use the Wedding Invitation (Up to 100 guests can be invited) (Must have the Wedding Reservation Ticket to use this item).

WEDDING HALL ENTRANCE REVAMP

If you want to watch a wedding but you're not invited to any, don't worry! You can go to public wedding ceremonies, but it'll be a first-come, first-serve basis! Wedding venues can only hold 30 guests, so if 17 people are invited, only 13 more guests will be able to enter the venue.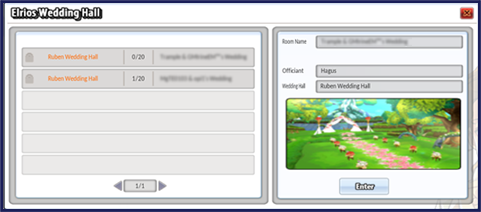 Make sure you enter on time! Because once the ceremony starts, you won't be able to enter!
END OF WEDDING REWARDS

Get awesome wedding favors/rewards after the happy wedding ceremony! Plus, wedding anniversary rewards have also been changed!

BEFORE
AFTER
MARRIED COUPLE
5 Slice of Wedding Cake
5 Celebratory Wedding Champagne
Wedding Sit (2 Player) (30 Days)
200 Wedding Cake
GUEST
-
20 Wedding Cake

BEFORE
AFTER
MARRIED COUPLE
(Wedding Anniversary)
Wedding Anniversary Cube
(1 Random Item from: El Shard, Magic Stone, Stamina Potion, Resurrection Stone Cube)
Wedding Anniversary Cube
(5 [Luriel] Refined Magic Stone, 20 Wedding Cake)
GUEST
-
20 Wedding Cake


BUFF/TITLE
EFFECT



Happy Newlyweds (Buff)

Physical/Magical Attack Power +5%
when spouses play together



Newlyweds' Happiness (Title)

EXP +20%, Drop Rate +10%


CONTENT
REWARD
WITH YOU!

Clear dungeons in your level range with your spouse 3 times

2 [Luriel] Stamina Potion
2 [Luriel] Fighter Potion
OTHER CHANGES

1. Players can have another wedding ceremony using Remind Propose/Remind even after marriage.

a. Players can receive dungeon buffs, titles, and weekly quests again after the Remind Wedding.

2. Divorce fees have been decreased
3. Existing NPC officiants' line have been edited.
4. White Tuxedo and Pink Dress' socket effect will be changed to '2% chance to double attack'.

5. [Cobo] Couple's Ring will be added to the ED Shop.
6. Extremely Heavenly Love tooltip will change.
7. Existing Wedding Packages will no longer be sold.
8. 'Get Married' achievements have been changed to 'Have a Wedding Ceremony'
9. Chibi Mode will be disabled during wedding.