WHAT IS MAGIC WARDROBE?
It's a new system that enables one to wear a costume you want- without worrying about the stats!
HOW DO I USE IT?
Click on the [Magic Wardrobe button] located at your inventory to bring up the Magic Wardrobe UI
The Magic Wardrobe UI consists of the following parts and functionalities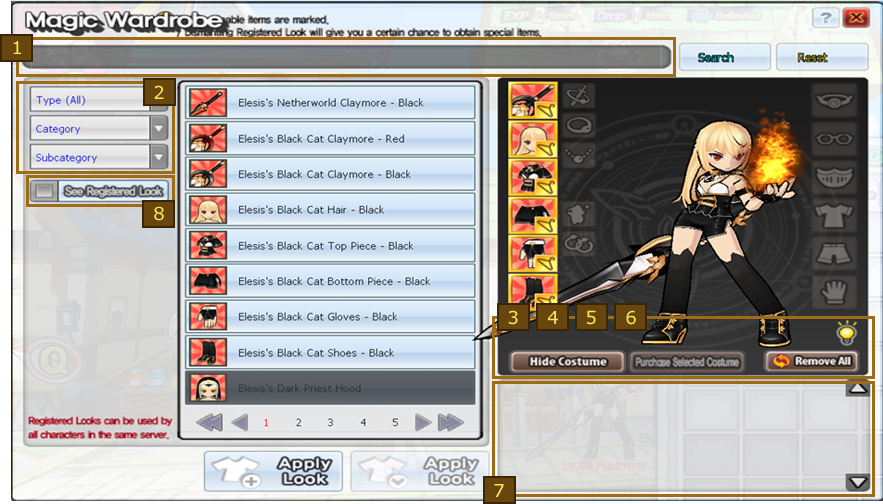 1. Search:

Search the items inside your wardrobe

5. Remove All:

Reset the list of outfits the user has worn in the Magic Wardrobe.

2. Filter:

Organize your searches using the function to quickly locate items.

6. Light On/Off:

Change the character background (Black/White).

3. Hide Costume:

Hide the costume the character was originally wearing.

7. Description:

The item name and the tooltip that appears.

4. Purchase Selected Costume:

If the costume piece/set is on sale on the Item Mall the user will be linked to the item.

8. See Stored Look:

When checked, only the items that are registered to the Magic Wardrobe will appear.
To register an outfit, click the
Store Look
button located at the bottom of the Magic Wardrobe UI.
| | | |
| --- | --- | --- |
| Store Button | | Store Mouse Icon |
Click on the costume item you want to store. A stored item becomes a Hanger Item and will look like this:

*Ice Burners, Job Promotion Costumes, Special Collaboration Costumes, Accessories, and Dungeon Gears cannot be stored.
Locked items cannot be stored in the Magic Wardrobe.
To Apply the Look, click the
"Apply Look"
on the bottom of the Magic Wardrobe UI. The mouse
icon will turn into an "Apply" icon. Then, freely click the item you want to change.
| | | |
| --- | --- | --- |
| Apply Button | | Apply Mouse Icon |
*Apply button only works on stored items
*Apply button only work on items that's are the same parts
Ex) Face Accessory (Top)->Face Accessory (Top)
Successfully stored items can override the look of a character's current costume piece: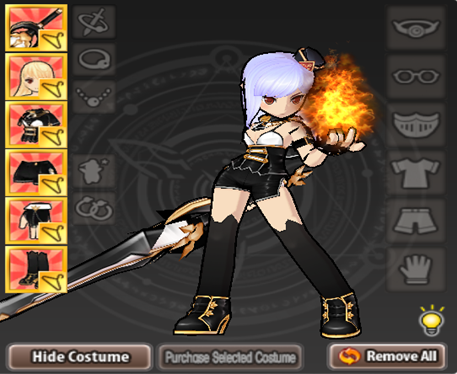 *Hanger Items stored on the Magic Wardrobe are impossible to trade or resell
*Hanger Removal Contract to cancel storing is available at the item mall.
MAGIC WARDROBE RESELL LIST
Some costumes removed from the Item Mall will become available for resell especially for Magic
Wardrobe! Click on the button to find out which of the costumes are available:


*The () indicate Characters that do not have those costumes
Permanent
| | | | |
| --- | --- | --- | --- |
| Bad Guys | Fantasy Star Academy | Animal Cosplay | Summer Casual |
| Holy/Dark Priest | Fantasy | ELS Casual | ELS Spring Rain |
4/26
| | | | |
| --- | --- | --- | --- |
| Gloomy Night | Magician to Illusion | SWAT Package | Frost Pixie |
| Arctic Travel | 2017 Winter Casual | Netherworld Express Crew | April Fool's Maid & Butler |
| Black Cat | Trump Bunny (Ain) | Elrios Noir (Ain) | Marine/ Sailor (Ain) |
*These Costumes will be available until 5/17
DISMANTLING HANGER ITEMS
Additional El Shards (Mystery) will be given according to the dismantled item's grade, price, etc.
Players may also get special bonus items such as


Even after you dismantle a stored item, they will still be in your Magic Wardrobe!