The Absolute

When the Absolute Aura engulfs monsters, it spells more trouble for adventurers in the Heroic Dungeon Mode.
A monster with the Absolute Aura will give players a variety of debuffs.
The player will get "The Absolute Monster" debuff, that lasts for 30 seconds, when killed while battling the monster.
Normal monsters engulfed by The Absolute will receive buffs at a random chance.
The debuffs The Absolute makes will have a chance to extend.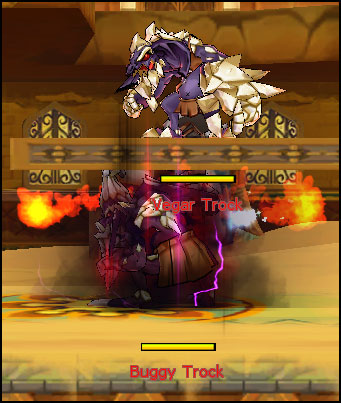 Monster on top does not have The Absolute Aura;
the monster at the bottom does.
Wimp

This monster will appear randomly inside dungeons included in Heroic Dungeon Mode.
Has a 25% chance to appear in dungeons. Does not appear in the first and boss stages.
When players have killed Wimp, they will receive one of the following buffs at random:

Monster time will stop for 5 seconds
Receive 100% HP or there will be no decrease in HP
Receive 100% MP or there will be no decrease in MP
Skill cooldown will reset or there will be no cooldown
FEVER will activate

Players will not be able to get the same type of buff in one dungeon.