---
HENIR'S TIME AND SPACE: The Ultimate Challenge


Henir's Time and Space is an exclusive dungeon where you'll find all the boss monsters from the previous dungeons. Hence, this is one of the toughest dungeons in all of Elsword Online.

Henir's Time and Space is a boss rush dungeon that lets players enter without Stamina. This dungeon has Normal and Challenge modes. It allows the use of Potions and Resurrection Stones in Normal mode, but not in Challenge mode. In Challenge mode, the damage the monsters receive from players is reduced. However, clearing the Challenge mode makes you eligible to enter the Henir's Time and Space ranking, allowing you to obtain titles if you are qualified for ranks 1 – 10.

---
Getting Started

● You can enter the dungeon as many times as you like. However, you will only earn rewards for 3 dungeon runs per day.
● Your character must be at Lv.10 to be able to enter.
● You can enter the dungeon even when your Stamina has been depleted.
● You can access Henir's Time and Space through the dungeon map selector while in the dungeon play areas of Elder, Bethma, Feita, Altera, Velder, & Hamel.
---
Map
● Henir's Time and Space has a total of 35 stages divided according to the 6 regions.
● These stages are filled with bosses!
● Once you clear one region's stages, you will enter a rest area, each marked in the mini-map with a cube icon. A rest area between stages is where you can decide to move onto the next region or exit the dungeon. If you exit the dungeon at this point, you can still keep the rewards you've collected, but the best reward can be obtained by completing the entire dungeon!
● Players will have a chance to receive a special buff in the rest areas.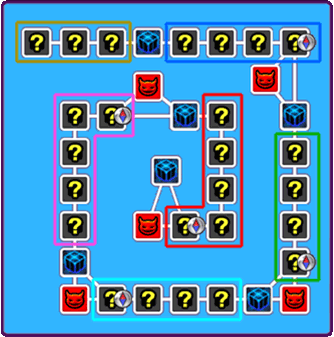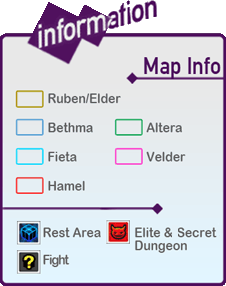 ---

Rewards
Henir's Time and Space is challenging, but it rewards vicious players well. Getting the toughest equipment in Elsword is not about how rare the boss drop is, but more about your skills and determination in becoming the strongest. The most formidable equipment sets in Elsword Online can only be earned by completing Henir's Time and Space.

THE PATH TO ABSOLUTION
● Start by collecting the crafting material items that you receive from completing Henir's Time and Space.


Piece of Time and Space
● Higher level sets will require you to craft Ruined Time and Space Crystals using Pieces of Time and Space.


Ruined Time and Space Crystal
● Complete as many stages as you can to receive more crafting materials.
● Craft the equipment that is suited to your level range at first, then upgrade as you progress and become stronger!
● Speak to NPC Glave in town and view his Craft and Exchange lists. Be sure to keep checking the craft requirements so you will be well prepared.

---